MARA RIVER TENTED CAMP
Experience Africa's great Serengeti and its incredible wildlife on a tented safari near the game-rich Mara River! With the Mara river closeby, it's not uncommon to hear the Blue Wildebeest splashing and snuffling as they run along the riverside..
These northern reaches of Tanzania are where the annual Wildebeest Migration crosses from the depleted plains of Serengeti National Park to the lush grasslands of the Masai Mara. In season, you can witness this grand spectacle as hundreds, if not thousands, of wildebeest, zebra and other ungulates brave the Mara River in search of greener pastures beyond. Resident big game can be sighted throughout the year including iconic species like lion, rhino, wild dog, elephant, hippo and crocodile.
The perfect pairing to your authentic Serengeti safari, lavishly-furnished tented suites are generously sized with roll-up canvas sides that showcase the beautiful surrounds.The camp is comprised of eight large, luxurious tents, all with their own en-suite facilities consisting of a flush toilet, double basins and a shower. The oversized double bed and luxurious lounge area provide a soothing place to rest your head after long days of safaris.
Each room has a desk to record your adventures and the veranda offers a hammock, table, and cushioned seating for you to comfortably view the rolling plains of the Serengeti.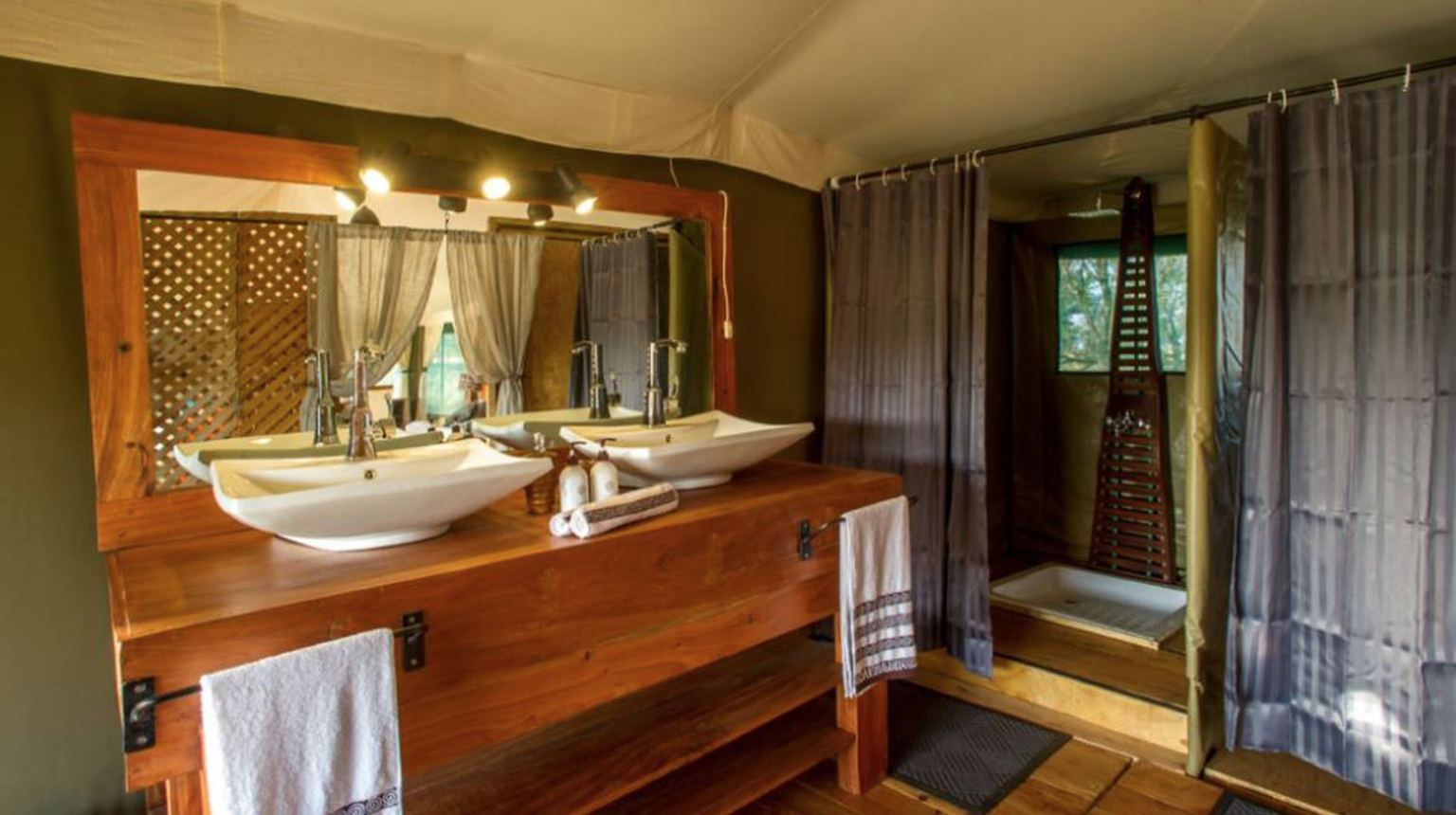 Game drives are available twice a day and invite adventurers to seek and watch the wildlife as they live in their natural habitat. Experienced guides join you on your journey, sharing a world of small and large wonders that they truly know and understand.
Hot air balloon safaris and walking safaris are all options available and all allow you to experience the extensive wildlife of the Serengeti first hand. From girraffes to zebras and pangolins to porcupines, you're never far from the next beautiful creature roaming the wild.Balloon safaris begin at 6am and take you silently above the plains teeming with herds of wildlife. After adventuring for 1-2 hours, balloon safaris are followed by a champagne breakfast in the bush.
Exploring the exciting wilderness on foot brings you closer to nature and ensures the safari is personal and immersive in every way possible. Follow the tracks, smell the herds on the breeze and hear the crunch of fauna underfoot. Led by a bush guide, you will be given bush-wise facts, wildlife know-how and incredible stories of life in the wilderness.
In addition to game drives, nature walks allow you to appreciate the beauty of smaller wildlife or the thrill of tracking big game on foot, and hot-air balloon rides are an extraordinary way of viewing the great plains of East Africa. While days are spent exploring golden savannahs, evenings are reserved for tranquil sunset drinks, candlelit dining, sharing 'bush stories' around the fire and listening to the quiet sounds of the African night.