MASAI MARA GAME RESERVE CAMP
The camp offers you everything desired in an authentic safari experience. Discreetly 'tucked away' in a riverine forest on the banks of the seasonal Olare Orok River. With an excellent location close to Ol kiombo airstrip, it is situated in the heart of the Maasai Mara Game Reserve.

All twelve river front tents have been placed far enough apart to guarantee complete tranquillity and privacy. Each tent is furnished with a comfortable four-poster bed with a mosquito net, an en-suite bathroom and safari-style shower, clothing rack and storage chest, writing desk and private veranda.

Additional features are a comfortable lounge and bar tent as well as a private dining tent where a selection of freshly prepared meals , mostly buffet style, are served by our in-house chef, who caters for all dietary requests happily. Our chef will also ensure that picnic meals are readily available for all those who prefer to stay out in the bush all day long. For photographers, a separate photo lounge to charge camera equipment and laptops has been set up. The little boutique shop compliments the set up and one can purchase unique souvenirs to take home.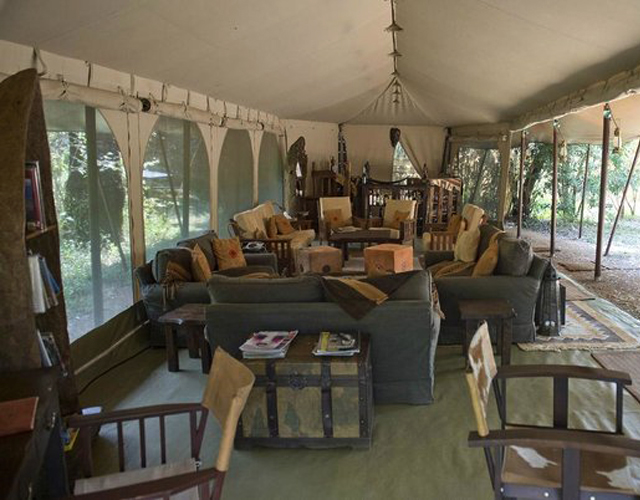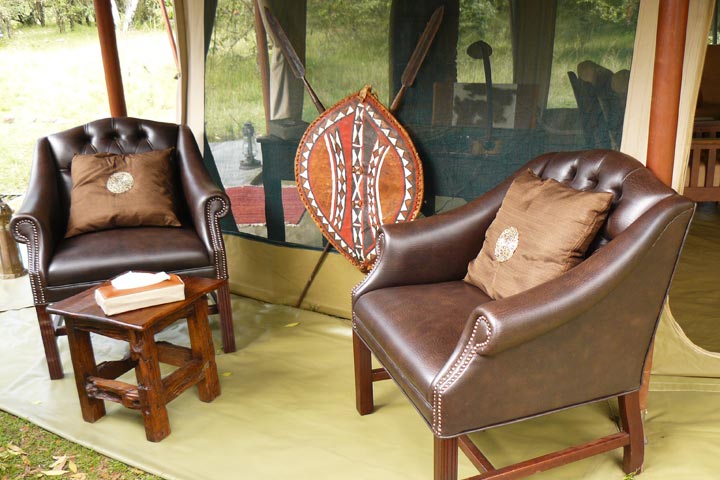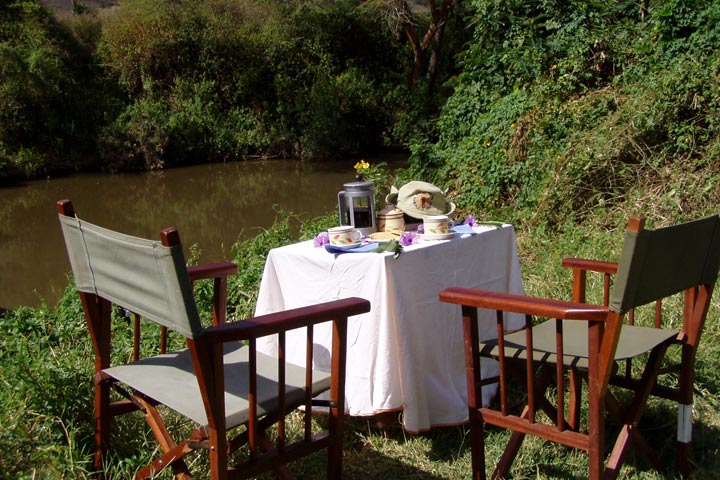 Unwind around a cosy campfire under the African stars while reminiscing about your day in the wild. The camp is fully solar powered, but a generator, well tucked away to ensure complete silence, and is available to provide power as a back-up system.

The camp is not fenced, therefore Maasai 'Moranis' Warriors will look out for your safety while you are sleeping.
Balloon Safari
A wonderful way to experience the magnificent land¬scape and amazing wildlife from a different perspective- A true highlight of every Safari in East Africa!
The Balloon crew will pick you up as early as 5 am in the morning for a drive to the starting point of the Balloon ride. Enjoy a one hour ride in the air above the amazing Savanna with your experienced Balloon Pilot. A sumptuous Champagne breakfast awaits you upon landing to crown the memorable experience. Children under 8 years or rather a height of below 1.25 meters are not permitted due to safety reasons.
Malaika Home
Malaika saves young Maasai Girls from childhood marriage and female genital mutilation.Many of these girls have been through traumatic experiences and often have run away from their home, seeking safety at 01 Malaika. You will have a chance to visit their traditional Manyatta and hear about the "Maasai Way of Life" as well as listen to traditional songs / dancing on a Sunday or during the Kenyan Holidays as the girls are not at school during that time.In addition, one can be useful in learning beadwork that supports the girls in selling their hand made souvenirs, or learning the art of "chapati making" for their dinner.
There is lots to learn, but mostly this is a trip to meet these wonderful children and teenagers that are full of hope and zest for a new and better life ! You are free to make donations or bring along items that are useful to the girls.
Happy Hippo Hour
Enjoy special cocktails at the Hippo Pool, everyday between 10.00am—4.00pm.Enjoy your drinks while watching the beautiful scenery and hippos lazing around.
Guided Bush Walk
Have you ever thought of exploring the African bush on foot? The Walking Team (accompanied by an armed ranger) will be happy to guide you through this walking safari outside the reserve. Look out for the small five, plants, learn how to identify animal tracks and differentiate the droppings of Elephant, Giraffe, Zebra and other wildlife.
Take the challenge a notch higher and identify the bones and skeletons you may come across whilst enjoying the endless panoramic view of the savanna grasslands ahead. Walks are available both in morning or afternoon. Duration between 2-3 hours (or to your liking also shorter)
Private Sun downer
During your afternoon/ evening game drive you will discover a table & camping chairs set up at the nearby river/hippo pools. This is a private arrangement, especially for you! Choose your sun downer from a selection of spirits, house wine, beer and soft drinks. Get spoilt with homemade canapés while watching the sun go down over African plains and hippos huddle right in front of you... listen to the sounds of the night setting in.
Private Bush dinner
The most romantic idea (weather permitting) is to have a dinner for 2 under the
stars. It is perfect for honeymooners or anyone who wants more than the usual privacy. A table, away from the main dining mess tent is set up surrounded by trees and bushes, lanterns are placed to add to the romantic set-up, just for you and your partner. Your personal waiter will serve you a 4 course delicious barbecued style meal with a bottle of wine (red /white) as well as unlimited soft drinks are available with compliments of the house.